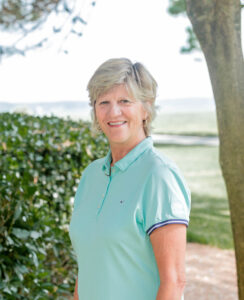 Dana Rader, director of instruction at Belfair, has been honored by the Ladies Professional Golf Association (LPGA) as the 2020 recipient of the Nancy Lopez Golf Achievement Award. The award was created by the LPGA Professionals in 2007 and is given to an LPGA Professionals member who emulates qualities valued by Lopez: leadership, passion, giving, and approachability.
Rader has served as director of instruction at Belfair since August 2018. She joined the Belfair team after selling her golf school in Charlotte and brought her passion for coaching to the Lowcountry. Rader is ranked as a "Top 50 Instructor in the U.S." and as the "Best in South Carolina" by Golf Digest, and has been featured on the Golf Channel numerous times. A nationally recognized leader in the golf industry, Rader is a past National President of the LPGA Teaching & Club Professionals membership.
"I have been a huge fan and a friend of Nancy Lopez for many years," said Rader. "To win this award means the world to me because she holds such a high standard on her values and to have my name next to hers is truly an honor and distinction."
"Belfair and our members could not be prouder of Dana being named the recipient of this award," said Ken Kosak, General Manager and COO at Belfair. "Our club is passionate about the game of golf and we are thrilled to have her leading our instructional team."
Lopez, a 48-time winner and four-time Rolex Player of the Year, was inducted into the LPGA Tour and World Golf Halls of Fame in 1987, and captained the victorious 2005 U.S. Solheim Cup Team.
Past winners of the Nancy Lopez:
Golf Achievement Award:
2019 Louise Ball
2018 Lynn Marriott
2017 Sandy LaBauve
2016 Donna White
2015 Teresa Zamboni
2014 Angela Aulenti
2013 Marvol Barnard
2012 Suzy Whaley
2011 Malia Folquet
2010 Lynn Stellman
2009 Patti Benson
2008 Troy Beck
2007 Debbie O'Connell